Santa Hand Bell solid brass bells Christmas Decor Santa Claus Costume Santa Bell Santa Bells Holiday Decor

These Santa hand bells add even more character to your Santa Claus costume!

Made from black English bridle leather and solid brass bells, this product will make your Santa Suit complete.

The bells are solid brass, giving them a beautiful holiday tone, not high pitched.

The leather also has small, neat black nylon stitching.

This is a very special item for any Santa to hold and ring to complete his Santa look.

The diameter is 5 inches and there are 5 beautiful brass bells. 100% satisfaction guaranteed for this nice looking decorative hand bell! Durable solid brass decorative Santa bells on a quality leather strap handle to complete the perfect Santa look! These Santa hand bells are high quality American made and are made to last. This highly polished solid brass bells are sure to please!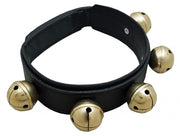 Santa Bells